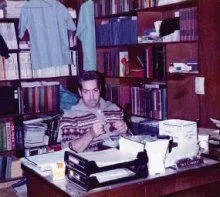 Dr. Harbert was born and raised in Adelaide, South Australia. At the age of 19, he worked his way from Australia to the United States on a U.S. Merchant Marine ship. He put himself through college by working on road construction, various farms and ranches, oil fields and welding machine shops.
Dr. Harbert graduated from Colorado State University with a Doctor of Veterinary Medicine degree in 1971. After graduation, he was a veterinarian with a small animal practice in Lakewood, CO. He and his wife later moved to Adelaide, South Australia for 18 months where he worked as a veterinarian for a small animal practice with 3 satellite clinics; there he specialized in soft tissue and orthopedic surgery. After returning to Colorado, he practiced as an orthopedic surgeon for the first referral animal hospital in the Denver area and was an associate veterinarian with Dr. Etter at All Pets Animal Hospital until he opened his own animal practice.
Dr. Harbert lives in the Niwot area with his wife Joanne. They have three daughters and one granddaughter. He is an avid reader on many different topics such as physics, biology, history, nutrition, medicine and current affairs. He enjoys playing baseball and plays in a men's senior baseball league.